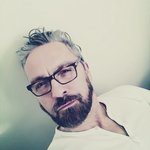 Robert Charles
"Robert has an amazing ability to find and create unique frames for his subjects that create an intimate voyeuristic quality as well as draw the viewer's eyes right into the subject of the image. You will find Robert often throwing the typical restrictive rules of photographic composition to the wind as he creates dramatic images with his creative usage of negative space. Robert's ability to create dramatic compositions using off camera lighting with a mixture of under exposed backgrounds to enhance the atmospheric lighting, making each scene uniquely intimate and dramatic. On the other side of his artistry is his dramatic post production style." I am always looking to catch an out-of-the-ordinary perspective or angle to express my interpretation of the world. My choice of subject is mostly intuitive, fuelled by a need to find the uncommon in the everyday. With my work I hope to start an intimate conversation that takes the viewer to a place of quiet contemplation. My visual interpretation of life in motion seems to be the most natural of all. Taking every step, every movement, every shadow, every light and wrapping these moments around my brain to process. I rarely repeat the exact same post processing method twice. Robert Charles joined Society6 on March 26, 2015
More
"Robert has an amazing ability to find and create unique frames for his subjects that create an intimate voyeuristic quality as well as draw the viewer's eyes right into the subject of the image. You will find Robert often throwing the typical restrictive rules of photographic composition to the wind as he creates dramatic images with his creative usage of negative space. Robert's ability to create dramatic compositions using off camera lighting with a mixture of under exposed backgrounds to enhance the atmospheric lighting, making each scene uniquely intimate and dramatic. On the other side of his artistry is his dramatic post production style."
I am always looking to catch an out-of-the-ordinary perspective or angle to express my interpretation of the world. My choice of subject is mostly intuitive, fuelled by a need to find the uncommon in the everyday. With my work I hope to start an intimate conversation that takes the viewer to a place of quiet contemplation.
My visual interpretation of life in motion seems to be the most natural of all. Taking every step, every movement, every shadow, every light and wrapping these moments around my brain to process. I rarely repeat the exact same post processing method twice.
Robert Charles joined Society6 on March 26, 2015.
Robert Charles's Store
9 results
Filter