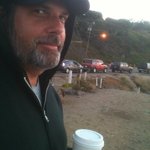 Robert E. Richards
www.RERichardsArt.com Robert E. Richards is a native of Los Angeles. He studied Life Drawing and classic animation at The American Animation Institute in Hollywood. He specialized in caricature, illustration, and character design before focusing on painting. His studio is in West Los Angeles. Robert has been busy participating in exhibitions earning himself several positive magazine reviews touting his unique style and sensibilities as an emerging artist to keep an eye on. He has been showing successfully in Los Angeles and Santa Monica with multiple simultaneous exhibitions. "As an artist, my aim is to find a balance between light and dark, comedy and tragedy, and the familiar and the strange. Pop Icons 'R Us, but with a twist of the screw. When painting, I enter into a type of meditative state that sometimes feels like I am connected to a power source." Robert E. Richards joined Society6 on October 19, 2014
More
www.RERichardsArt.com Robert E. Richards is a native of Los Angeles. He studied Life Drawing and classic animation at The American Animation Institute in Hollywood. He specialized in caricature, illustration, and character design before focusing on painting. His studio is in West Los Angeles. Robert has been busy participating in exhibitions earning himself several positive magazine reviews touting his unique style and sensibilities as an emerging artist to keep an eye on. He has been showing successfully in Los Angeles and Santa Monica with multiple simultaneous exhibitions.
"As an artist, my aim is to find a balance between light and dark, comedy and tragedy, and the familiar and the strange. Pop Icons 'R Us, but with a twist of the screw. When painting, I enter into a type of meditative state that sometimes feels like I am connected to a power source."
Robert E. Richards joined Society6 on October 19, 2014.