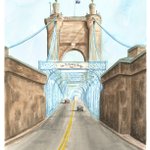 Robin Ewers
What can I say? I'm a local Cincinnati artist who loves my hometown, bourbon, hot dogs and cats.
I've recently made the leap of faith to a full-time fine artist and freelancer. I graduated in 2005 with a degree in Graphic design and after 10 years of working in the field, it was time to take the next step.
I work primarily in watercolors, ink and graphite. I'm also known for my portrait work and quirky bourbon paintings. I find inspiration just about anywhere, but mainly my city of Cincinnati is all the inspiration I need.
I have a strong interest in greeting cards, portrait work, loose watercolors and editorial illustrations. I love taking on new projects - so let's chat about it!
Fun Facts: Teaching Artist on the Ezzard Charles mural located at Liberty and Republic Streets downtown Top 25 Artist for Secret Artworks show Named Cincinnati's Best Local Artist of 2010 by CityBeat Magazine readers Artist of the "Over-the-Swine" Pig statue for the Cincinnati Development Fund Co-Artist of the Christian Moerlein Cincinnati Brewing Heritage Pig along with Randy Wilcox from Once Blind Studios
My art has been mentioned and promoted by Cincy Chic, A-Line Magazine, FOX 19 Morning Extra, Artworks Cincinnati, Springboard Cincinnati, Abservd Magazine, Soapbox Cincinnati, CityBeat Magazine, Cincy Magazine, RAW Artists, Metromix, Cincinnati.com, Wild Turkey Distillery and MadTree Brewing.
I also own and operate my studio, Dogwood Art Studio, out of Brazee Street Studios, located in Oakley in Cincinnati. Dogwood Art Studio is my way of keeping art alive and strong in the community. Dogwood Art Studio offers individualized art instruction, drawing and painting classes for targeted age groups, wine and painting parties, Artist Badge earning classes for Boy Scout or Girl Scout troops and more.
Read more
Robin Ewers's Store
Filter