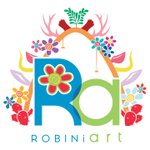 RobiniArt
My name is Robin, and when I was a kiddo, my mother gave me the nickname "Robini" (rhymes with Houdini). It stuck. I will always and forever be "The Great Robini"! That nickname and a shortened form of my last name "Arthur" have combined to form the word "RobiniArt", the name of my thriving pet portrait business.
My portraits bring joy, happiness, beauty and vibrant color to customers across the United States and Mexico. I paint in a Tex-Mex style, reminiscent of Mexico's Day of the Dead holiday that focuses on gatherings of family and friends to pray for and remember those who have passed away. I believe that my work embodies the cultural shift happening in the United States. It is fresh, bright, beautiful, passionate and filled with the warmth and sunshine of Mexico, Texas and the great Southwest. Typical design elements are bones, flowers, ferns, butterflies, spiders, "flower eyes" and starry skies.
I have had dozens of jobs over the past three decades: Dairy Queen fry cook, telemarketer, necklace maker, retail clerk, coffee barista, day care worker, psychic hotline operator, vacuum salesperson, cocktail waitress, receptionist, customer service representative, designer, caterer, art exhibition coordinator, fund raiser, marketing specialist and event planner.
Somewhere in the midst of working those jobs and raising a child, I earned a BFA in drawing and painting at the University of North Texas in Denton, TX, studying with Vincent Falsetta, Rob Erdle, Annette Lawrence, Robert Jessup and Ed Blackburn. For years afterward, I avoided a potentially unpredictable art career in lieu of something more stable and practical. Those days are over. Now is the time to paint!
Contact me about custom work at robin@robiniart.com and 512-963-4892. Social media links are below, under works featured on Redbubble's home page. Woot!
Read more