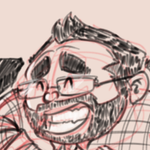 robloker
I'm a freehand and digital illustrator that takes inspiration from 90's era cartoons, sitcoms, and comics. I'm also a science enthusiast, educator, and new dad. I draw as much as I can. If I'm working digitally, I'll use anything form a tablet monitor to my phone. If I'm working traditionally, I usually work in mix-media in a mix of brush pen, markers, watercolor paints, and sometimes color pencil. robloker joined Society6 on April 17, 2016
More
I'm a freehand and digital illustrator that takes inspiration from 90's era cartoons, sitcoms, and comics. I'm also a science enthusiast, educator, and new dad. I draw as much as I can.
If I'm working digitally, I'll use anything form a tablet monitor to my phone. If I'm working traditionally, I usually work in mix-media in a mix of brush pen, markers, watercolor paints, and sometimes color pencil.
robloker joined Society6 on April 17, 2016.
robloker's Store
15 results
Filter