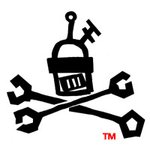 Robot King
I started as ROBOT KING in 1996 offering a small selection of American and Japanese style punk rock t shirts. This quickly blossomed into a full line of designs for ROBOT KING as well as some custom work for local bands, handmade bags and accessories. ROBOT KING has since grown from a small operation in the garage to offering a wide selection of fine art, art prints, apparel, accessories, and housewares. Look for Robot King on Facebook [ http://www.facebook.com/pages/Robot-King/51086902911 ] or on twitter @robotking [ http://twitter.com/robotking ] Robot King joined Society6 on October 13, 2011
More
I started as ROBOT KING in 1996 offering a small selection of American and Japanese style punk rock t shirts. This quickly blossomed into a full line of designs for ROBOT KING as well as some custom work for local bands, handmade bags and accessories.
ROBOT KING has since grown from a small operation in the garage to offering a wide selection of fine art, art prints, apparel, accessories, and housewares.
Look for Robot King on Facebook [ http://www.facebook.com/pages/Robot-King/51086902911 ]
or on twitter @robotking [ http://twitter.com/robotking ]
Robot King joined Society6 on October 13, 2011.
Robot King's Store
12 results
Filter