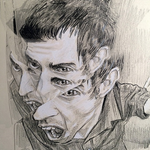 robotrake
Douglas Noe, also known as Robotrake, is an award-winning graphic designer and illustrator best known for his Philadelphia Weekly cover drawing If Looks Could Kill: AIDS Loses Its Fear Factor. Since 2002 he has exhibited work as a painter, video artist, animator and noise musician. A graduate of Tyler School of Art, with a BFA in Graphic & Interactive Design, Doug currently resides in Philadelphia, PA where he spends his free time drawing and talking to cats. contact: robotrake@gmail.com http://www.dribbble.com/robotrake http://www.instagram.com/robotrake http://www.facebook.com/dougnoeillustration http://douglascnoe.tumblr.com http://www.dougnoe.com https://www.behance.net/douglasnoe https://twitter.com/douglasnoe robotrake joined Society6 on December 11, 2013
More
Douglas Noe, also known as Robotrake, is an award-winning graphic designer and illustrator best known for his Philadelphia Weekly cover drawing If Looks Could Kill: AIDS Loses Its Fear Factor. Since 2002 he has exhibited work as a painter, video artist, animator and noise musician. A graduate of Tyler School of Art, with a BFA in Graphic & Interactive Design, Doug currently resides in Philadelphia, PA where he spends his free time drawing and talking to cats.
contact:
robotrake@gmail.com http://www.dribbble.com/robotrake http://www.instagram.com/robotrake http://www.facebook.com/dougnoeillustration http://douglascnoe.tumblr.com http://www.dougnoe.com https://www.behance.net/douglasnoe https://twitter.com/douglasnoe
robotrake joined Society6 on December 11, 2013.