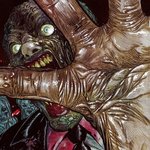 Rob Sacchetto's Zombie Art
Hi there, Rob Sacchetto here. In 2006 I started Zombie Portraits, an online service in which I hand-paint people as the living dead. I'm the original Zombie Portrait artist and I illustrate my portraits using traditional means - no computer photo-manipulation involved. I've created thousands of portraits but, in 2008, I felt I wasn't drawing enough zombies so I started Zombie Daily. I now post a new original zombie drawing or painting every day! I done thousands of those pictures as well. The formation of Zombie Daily led the publishing company Ulysses press to offer me two book deals, one for, "The Zombie Handbook: How to Identify the Living Dead and Survive the Coming Zombie Apocalypse", and my next book, "Zombiewood:The Celebrity Dead Exposed". My Zombie Portrait service also caught the attention of noted zombie author Jonathan Maberry, which led him to include me as a named character in his book "Rot and Ruin". I also created the chase card illustrations for that book and his follow-up "Dust and Decay". I'm featured in the documentary "Zombiemania" and provided the morphing zombie portrait drawings for me and the other noted zombie experts who were interviewed, including George Romero, Tom Savini, Max Brooks and Greg Nicotero. My zombie art has been licensed for use on everything from puzzles to skateboard decks, targets, greeting cards and many other products. To date, I firmly believe that I have drawn more zombies than anyone on the planet! There is of course more, but it is my goal through my art, to help keep the love of the living dead alive in the world. Please feel free to peruse my www.zombiedaily.com and www.zombiepotraits.com sites and thank you so much for your time and consideration. Rob Sacchetto's Zombie Art joined Society6 on June 2, 2012
More
Hi there, Rob Sacchetto here.
In 2006 I started Zombie Portraits, an online service in which I hand-paint people as the living dead. I'm the original Zombie Portrait artist and I illustrate my portraits using traditional means - no computer photo-manipulation involved.
I've created thousands of portraits but, in 2008, I felt I wasn't drawing enough zombies so I started Zombie Daily. I now post a new original zombie drawing or painting every day! I done thousands of those pictures as well.
The formation of Zombie Daily led the publishing company Ulysses press to offer me two book deals, one for, "The Zombie Handbook: How to Identify the Living Dead and Survive the Coming Zombie Apocalypse", and my next book, "Zombiewood:The Celebrity Dead Exposed". My Zombie Portrait service also caught the attention of noted zombie author Jonathan Maberry, which led him to include me as a named character in his book "Rot and Ruin". I also created the chase card illustrations for that book and his follow-up "Dust and Decay".
I'm featured in the documentary "Zombiemania" and provided the morphing zombie portrait drawings for me and the other noted zombie experts who were interviewed, including George Romero, Tom Savini, Max Brooks and Greg Nicotero. My zombie art has been licensed for use on everything from puzzles to skateboard decks, targets, greeting cards and many other products.
To date, I firmly believe that I have drawn more zombies than anyone on the planet!
There is of course more, but it is my goal through my art, to help keep the love of the living dead alive in the world. Please feel free to peruse my www.zombiedaily.com and www.zombiepotraits.com sites and thank you so much for your time and consideration.
Rob Sacchetto's Zombie Art joined Society6 on June 2, 2012.
Rob Sacchetto's Zombie Art's Store
615 results
Filter