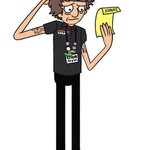 Rob Sassi
Hello, my name is Rob Sassi and I'm an animator, painter, illustrator, and musician. I moved out to Los Angeles a couple years ago to persue my dream. This shop is open for friends around the world who might not have any other opportunity to buy my work! *All Art posted here is mine and cannot be reproduced without my consent.* Keep in contact with my animation and illustration at: RobSassi.Blogspot.com StopSassi.tumblr.com or IG and Twitter: @StopRobSassi Rob Sassi joined Society6 on January 24, 2013
More
Hello, my name is Rob Sassi and I'm an animator, painter, illustrator, and musician. I moved out to Los Angeles a couple years ago to persue my dream. This shop is open for friends around the world who might not have any other opportunity to buy my work!
All Art posted here is mine and cannot be reproduced without my consent.
Keep in contact with my animation and illustration at:
RobSassi.Blogspot.com StopSassi.tumblr.com or IG and Twitter: @StopRobSassi
Rob Sassi joined Society6 on January 24, 2013.