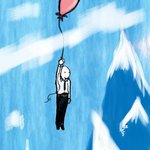 Whatever Stuck
All of the work displayed is my own. My name is Rob Scanlon I currently live in FL. I am a musician, and I paint to relieve the stress of every day life. I amtrying to save money to continue to do what I love. I hope you enjoy my work as much as I enjoy making it. If interested, please take a listen to my music: www.facebook.com/thelionfacedboy Whatever Stuck joined Society6 on October 25, 2012
More
All of the work displayed is my own. My name is Rob Scanlon I currently live in FL. I am a musician, and I paint to relieve the stress of every day life. I amtrying to save money to continue to do what I love. I hope you enjoy my work as much as I enjoy making it.
If interested, please take a listen to my music:
www.facebook.com/thelionfacedboy
Whatever Stuck joined Society6 on October 25, 2012.
Whatever Stuck's Store
3 results
Filter