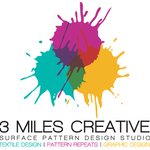 3 Miles Creative
Surface pattern design studio "3 Miles Creative" was founded in 2013 by designer Robyn Bockmann. A design professional for over 12 years, Robyn has worked in numerous creative roles such as textile designer, graphic artist, creative product developer & Automotive Colour & Trim specialist, for an array of globally recognised brands & companies. With a BA (HONS) in Textile Design & a vast creative skill set, Robyn designs primarily for youth and adult markets. Robyn specialises in technical pattern repeats for fabric yardage prints, apparel print placements, trend forecasting, bespoke stationary & surface pattern design. With great attention to detail and a knack for quickly picking up on clients evolving design needs, Robyn's wish is to combine her knowledge & experience in these areas to deliver the best creative to customers. Robyn's designs are a mixture of hand drawn motifs & CAD graphics, in a style that is commercial, modern, textural, on trend, brightly coloured & energetic. She finds design inspiration from many sources - especially nature / pop culture / geometric patterns & her design heroes include; the trail blazing 'madam' of Australian pattern design - Florence Borardhurst, M.C. Escher & the master himself – William Morris. Her future design aspirations include designing for homewares, stationary / paper goods, fabric & apparel, ceramics, giftware, fashion accessories & bedroom Manchester. 3 Miles Creative joined Society6 on February 5, 2014
More
Surface pattern design studio "3 Miles Creative" was founded in 2013 by designer Robyn Bockmann. A design professional for over 12 years, Robyn has worked in numerous creative roles such as textile designer, graphic artist, creative product developer & Automotive Colour & Trim specialist, for an array of globally recognised brands & companies.
With a BA (HONS) in Textile Design & a vast creative skill set, Robyn designs primarily for youth and adult markets. Robyn specialises in technical pattern repeats for fabric yardage prints, apparel print placements, trend forecasting, bespoke stationary & surface pattern design. With great attention to detail and a knack for quickly picking up on clients evolving design needs, Robyn's wish is to combine her knowledge & experience in these areas to deliver the best creative to customers.
Robyn's designs are a mixture of hand drawn motifs & CAD graphics, in a style that is commercial, modern, textural, on trend, brightly coloured & energetic. She finds design inspiration from many sources - especially nature / pop culture / geometric patterns & her design heroes include; the trail blazing 'madam' of Australian pattern design - Florence Borardhurst, M.C. Escher & the master himself – William Morris.
Her future design aspirations include designing for homewares, stationary / paper goods, fabric & apparel, ceramics, giftware, fashion accessories & bedroom Manchester.
3 Miles Creative joined Society6 on February 5, 2014.
3 Miles Creative 's Store
55 results
Filter