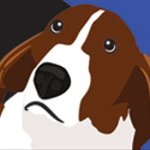 robyriker
Rocket scientist by day, graphic designer by night! Check out my website http://www.robyriker.com and these other places to buy my designs! Etsy: http://www.etsy.com/shop/robyriker Spoonflower: http://www.spoonflower.com/profiles/robyriker Cafepress: http://www.cafepress.com/robyriker Zazzle: http://www.zazzle.com/robyriker Like my Facebook page to find out about my latest projects and promotions! https://www.facebook.com/RobyrikerDesigns robyriker joined Society6 on October 9, 2012
More
Rocket scientist by day, graphic designer by night!
Check out my website http://www.robyriker.com and these other places to buy my designs! Etsy: http://www.etsy.com/shop/robyriker Spoonflower: http://www.spoonflower.com/profiles/robyriker Cafepress: http://www.cafepress.com/robyriker Zazzle: http://www.zazzle.com/robyriker
Like my Facebook page to find out about my latest projects and promotions! https://www.facebook.com/RobyrikerDesigns
robyriker joined Society6 on October 9, 2012.
Framed Prints by robyriker
240 results
Filter