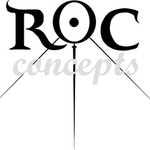 RocConcepts
"Painting is poetry that is seen rather than felt, and poetry is painting that is felt rather than seen." ~Leonardo da Vinci "Do not be satisfied with the stories that come before you. Unfold your own myth." ~Rumi Art is my hobby and my passion. I want to create images that tell stories; I hope they might find someone who sees the same story just as I hope that they might find people who will give them their own. I'd like to share pictures that are fun and ones that are thoughtful. I just hope I can make up my mind! RocConcepts joined Society6 on September 12, 2013
More
"Painting is poetry that is seen rather than felt, and poetry is painting that is felt rather than seen." ~Leonardo da Vinci "Do not be satisfied with the stories that come before you. Unfold your own myth." ~Rumi
Art is my hobby and my passion. I want to create images that tell stories; I hope they might find someone who sees the same story just as I hope that they might find people who will give them their own. I'd like to share pictures that are fun and ones that are thoughtful.
I just hope I can make up my mind!
RocConcepts joined Society6 on September 12, 2013.