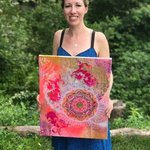 Rochelle Fox
My name is Rochelle and I'm a passionate creative with a whimsical, yet peaceful style. My work is intended to uplift and inspire. I truly believe that we are meant to use our creativity to discover the limitless potential within. To go within and discover something truly special about ourselves, and then find a way to share it with the world. My creative process is an intuitive one, and I love seeing the images evolve and grow as I put pen to paper.
I am infinitely inspired by the organic balance of colors and forms in nature. I am fascinated with Eastern philosophies and mythology, particularly the goddess archetypes of strength and empowerment, and how they are so important in our modern world.
My intricately detailed work has become a sacred form of meditation. I seek to create images of serenity and calm to balance the overly stimulating world we live in. I enjoy taking long walks in nature and soaking up inspiration for my paintings and illustrations.
For the past 15 years I have been exhibiting my work in galleries and museums, selling my work at various artist markets, and was published in the Sketchbook Project World Tour book.
Ultimately, I want to contribute something beautiful to the world and inspire others to live in a holistic, interconnected way. To create a community that embraces their own uniqueness and creativity.
Read more
Rochelle Fox's Store
62 results
Filter