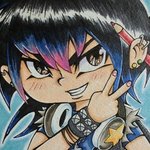 rocket-child
Jessica McLeod-Yu is a storyteller, artist, illustrator and author. She is currently studying at the University of Newcastle, Australia, doing a Bachelor of Fine Arts and Diploma of Languages. Her influences include nature, architecture, rock music, street fashion, fairy tales, fantasy art and American and Japanese animations, as well as the Japanese culture, which comes from one of her other loves; learning languages and traveling to different countries. rocket-child joined Society6 on April 6, 2014
More
Jessica McLeod-Yu is a storyteller, artist, illustrator and author. She is currently studying at the University of Newcastle, Australia, doing a Bachelor of Fine Arts and Diploma of Languages.
Her influences include nature, architecture, rock music, street fashion, fairy tales, fantasy art and American and Japanese animations, as well as the Japanese culture, which comes from one of her other loves; learning languages and traveling to different countries.
rocket-child joined Society6 on April 6, 2014.