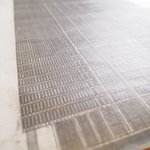 Rocky Lu
Rocky Lu is an Autistic artist based in Perth, Western Australia, who creates highly detailed drawings of skyscrapers from across the globe. His interest with these works focuses on the desire to represent engineering marvels true to form, scaled down to allow a closer connection with the viewer. Lu researches these buildings intensively, often before they're even built, and thoroughly examines every facet before embarking on creating the drawing. Each piece captures the colossal details of the chosen skyscraper's facade, with intricate texture and shading to reveal the building's architectural features. The love for knowledge and the desire to understand these symbols of economic wealth and power have driven Rocky to dedicate his life to creating these artistic pieces. Rocky's autism fosters a unique perspective on the art world, as few art works of this kind exist and even fewer artists are practicing this nature of work. Rocky has strong focus, determination and willingness for this style of drawing, which he creates with a simple lead pencil to explore a new level of traditional drawing that many professional artists find difficult. Lu's has developed his technique since beginning drawing skyscrapers at age 12, and his work has been received with strong critical acclaim, with his art having been shown in the US Consulate. Rocky Lu joined Society6 on June 12, 2015
More
Rocky Lu is an Autistic artist based in Perth, Western Australia, who creates highly detailed drawings of skyscrapers from across the globe. His interest with these works focuses on the desire to represent engineering marvels true to form, scaled down to allow a closer connection with the viewer.
Lu researches these buildings intensively, often before they're even built, and thoroughly examines every facet before embarking on creating the drawing. Each piece captures the colossal details of the chosen skyscraper's facade, with intricate texture and shading to reveal the building's architectural features. The love for knowledge and the desire to understand these symbols of economic wealth and power have driven Rocky to dedicate his life to creating these artistic pieces.
Rocky's autism fosters a unique perspective on the art world, as few art works of this kind exist and even fewer artists are practicing this nature of work. Rocky has strong focus, determination and willingness for this style of drawing, which he creates with a simple lead pencil to explore a new level of traditional drawing that many professional artists find difficult. Lu's has developed his technique since beginning drawing skyscrapers at age 12, and his work has been received with strong critical acclaim, with his art having been shown in the US Consulate.
Rocky Lu joined Society6 on June 12, 2015.
Rocky Lu's Store
3 results
Filter