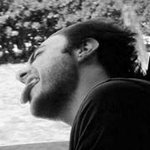 Ronaldo Anarelli
Ronaldo Annarelli ( 24th July 1989) is a brazilian artist from Jundiai/SP. Since his childhood, Ronaldo always had high creativity and a free spirit for experimenting life. His mother and his grandmother were the principal reason for his interest in art. They taught him to express his soul and his interior world. When he was only 22, he went to Europe for studying English and having contact with different cultures. There he worked as a sales staff in a suvenir store in Dublin (Ireland) for aproximately eight months. After that he took a backpacking and went around Europe travelling alone. Between other cities he visited Berlin, Praha, Vienna, Florence, Rome, Atens, Istanbul, Paris, Porto, London and Amsterdan. While he was travelling learned alot about art, tradition and inspiration. He also always had with him his sketch book for drawing his impressions of those places. Nowadays Ronaldo is studying Architecture and City Planning. He is going to graduate next year and his bigger wish is to be free to know all the world around and taste different cultures. With his imagination, criativity, and talent he is looking for a way to express his world whose is with his soul just in his heart. For further information have a look at Ronaldo Anarelli's page on Facebook. Text by Raissa M. Ferrari Ronaldo Anarelli joined Society6 on July 30, 2013
More
Ronaldo Annarelli ( 24th July 1989) is a brazilian artist from Jundiai/SP. Since his childhood, Ronaldo always had high creativity and a free spirit for experimenting life. His mother and his grandmother were the principal reason for his interest in art. They taught him to express his soul and his interior world. When he was only 22, he went to Europe for studying English and having contact with different cultures. There he worked as a sales staff in a suvenir store in Dublin (Ireland) for aproximately eight months. After that he took a backpacking and went around Europe travelling alone. Between other cities he visited Berlin, Praha, Vienna, Florence, Rome, Atens, Istanbul, Paris, Porto, London and Amsterdan. While he was travelling learned alot about art, tradition and inspiration. He also always had with him his sketch book for drawing his impressions of those places. Nowadays Ronaldo is studying Architecture and City Planning. He is going to graduate next year and his bigger wish is to be free to know all the world around and taste different cultures. With his imagination, criativity, and talent he is looking for a way to express his world whose is with his soul just in his heart. For further information have a look at Ronaldo Anarelli's page on Facebook.
                                                                                            Text by Raissa M. Ferrari

Ronaldo Anarelli joined Society6 on July 30, 2013.