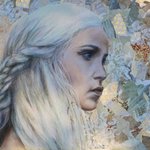 Rony Walton
My name is Rony Walton. I make art. I have a lot a reasons why I do it, mostly its because I can't-not make art. No matter where my life takes me I have always felt the need to use my hands, my heart and my passion in all things enticing and mysterious. I have a devotion for all things beautiful. I find that there is honesty and truth in pretty much everything that can be seen or experienced. The world is a beautiful mysterious place and I am so happy to be a part of it. I am so overwhelmed yet inspired by all the talent and artistry that I see from other people in this industry every day. To all artists out there, Thank you. You have pushed me to be better, to work harder and to want it more than I ever have before. You are yet another reason for me to pursue my real dream my real calling even though it isn't what pays the bills. All of my work is created by hand and the majority of it is a mix of graphite, charcoal, acrylic paint and found materials such as coral, buttons, jewelry or scraps of paper. I love integrating textures in my work to add another dimension to it. I like to think that it adds to the human element of my work. Website and shop currently under construction. www.Rony-Walton.com If you like please follow and promote! Interested in a commission? Contact me at Ronywalton01@gmail.com http://instagram.com/ronywaltz https://www.facebook.com/rony.walton Rony Walton joined Society6 on November 6, 2013
More
My name is Rony Walton.
I make art.
I have a lot a reasons why I do it, mostly its because I can't-not make art. No matter where my life takes me I have always felt the need to use my hands, my heart and my passion in all things enticing and mysterious. I have a devotion for all things beautiful. I find that there is honesty and truth in pretty much everything that can be seen or experienced. The world is a beautiful mysterious place and I am so happy to be a part of it.
I am so overwhelmed yet inspired by all the talent and artistry that I see from other people in this industry every day. To all artists out there, Thank you. You have pushed me to be better, to work harder and to want it more than I ever have before. You are yet another reason for me to pursue my real dream my real calling even though it isn't what pays the bills.
All of my work is created by hand and the majority of it is a mix of graphite, charcoal, acrylic paint and found materials such as coral, buttons, jewelry or scraps of paper. I love integrating textures in my work to add another dimension to it. I like to think that it adds to the human element of my work.
Website and shop currently under construction. www.Rony-Walton.com
If you like please follow and promote! Interested in a commission?
Contact me at Ronywalton01@gmail.com http://instagram.com/ronywaltz https://www.facebook.com/rony.walton
Rony Walton joined Society6 on November 6, 2013.
Rony Walton's Store
43 results
Filter