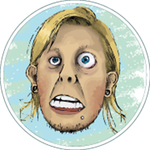 Rookie Art&Illustration
I'm a 23 year-old freelance illustrator, graphic designer and photographer. I live in Germany, in a town near Cologne where I study design. Since I was able to hold a pen I've been obsessed with drawing. When I turned 16 photography and Photoshop joined ranks. At the age of 22 I discovered my passion for t-shirt design! I like combine tradional drawing and digital (shirt designs), therefore I start with simple pencil sketches, ink them, scan them and then turn them into vectors. It's because I like to draw on paper and get dirty with paint etc. additionally the vectors arent so clean (different thickness of lines) and that gives it a traditional look. http://www.facebook.com/andreillustration Rookie Art&Illustration joined Society6 on August 30, 2013
More
I'm a 23 year-old freelance illustrator, graphic designer and photographer. I live in Germany, in a town near Cologne where I study design. Since I was able to hold a pen I've been obsessed with drawing. When I turned 16 photography and Photoshop joined ranks. At the age of 22 I discovered my passion for t-shirt design! I like combine tradional drawing and digital (shirt designs), therefore I start with simple pencil sketches, ink them, scan them and then turn them into vectors. It's because I like to draw on paper and get dirty with paint etc. additionally the vectors arent so clean (different thickness of lines) and that gives it a traditional look.
http://www.facebook.com/andreillustration
Rookie Art&Illustration joined Society6 on August 30, 2013.