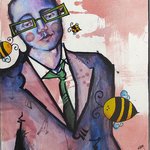 Roquito
​Roque Silva is a young growing artist with raw individual flair who is certain to leave a lasting impression.  Born in Bogota, Colombia in 1989, Silva and his family left Colombia for Florida in 2006.  Once in Florida, Roque struggled with the cultural differences between his old and new environment.  By pure chance, he was placed in an introductory art class in his new high school, where he began to experiment with art.  There, Roque eventually realized his passion for painting.  His painting "ole" won the Superintendent Art Show in Florida, and was displayed in the Fort Lauderdale Museum of Art.  After that showing, Silva began selling his paintings and the proceeds enabled him to attend the Savannah College of Art and Design.  Today Silva's work can be found in private collections in Colombia, Italy, Florida, New York, Massachusetts, and California. ​Roque has seen poverty, both in Colombia and Savannah, and says "It's all the same - they're all people."  Silva wishes to use his artwork to inspire others.  He hopes people will find a way to give back to their communities and will do their best to make a difference in someone else's life.  He hopes his paintings will help inspire that selflessness in others. For more of his work visit roquegallery.com Roquito joined Society6 on October 19, 2011
More
​Roque Silva is a young growing artist with raw individual flair who is certain to leave a lasting impression.  Born in Bogota, Colombia in 1989, Silva and his family left Colombia for Florida in 2006.  Once in Florida, Roque struggled with the cultural differences between his old and new environment.  By pure chance, he was placed in an introductory art class in his new high school, where he began to experiment with art.  There, Roque eventually realized his passion for painting.  His painting "ole" won the Superintendent Art Show in Florida, and was displayed in the Fort Lauderdale Museum of Art.  After that showing, Silva began selling his paintings and the proceeds enabled him to attend the Savannah College of Art and Design.  Today Silva's work can be found in private collections in Colombia, Italy, Florida, New York, Massachusetts, and California.
​Roque has seen poverty, both in Colombia and Savannah, and says "It's all the same - they're all people."  Silva wishes to use his artwork to inspire others.  He hopes people will find a way to give back to their communities and will do their best to make a difference in someone else's life.  He hopes his paintings will help inspire that selflessness in others. For more of his work visit roquegallery.com
Roquito joined Society6 on October 19, 2011.