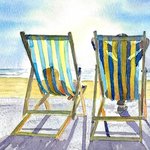 Rory Kent
Rory Kent was born in Norfolk, England, where he still lives today. He has found a wealth of inspiration in the county's natural beauty and in the charming features of the historic city of Norwich. His original watercolour paintings are timeless impressions of typical scenes which reflect the tender and loving rapport the artist has with his native county. https://rorykent.net Rory Kent joined Society6 on September 25, 2016
More
Rory Kent was born in Norfolk, England, where he still lives today. He has found a wealth of inspiration in the county's natural beauty and in the charming features of the historic city of Norwich. His original watercolour paintings are timeless impressions of typical scenes which reflect the tender and loving rapport the artist has with his native county.
https://rorykent.net
Rory Kent joined Society6 on September 25, 2016.