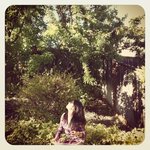 Rosanna Ren
About Rosanna Ren
Rosanna Ren.
UC Berkeley c/o 2015.
B.S. Environmental Sciences / Environmental Economics and Policy. Sustainable Design minor.
(
http://www.linkedin.com/in/rosannaren/
)
I paint and draw, and sometimes fool around on Photoshop & Illustrator. Might not be doing art professionally, but I love it anyways.
Rosanna Ren joined Society6 on December 22, 2011.