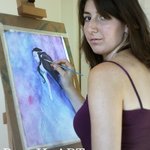 RoseHeART Studios
Jennifer is a self-taught artist who has been drawing and doodling ever since she could hold a pencil - or crayon. Her interest in drawing began with her love for horses, slowly branching out to fantasy, landscape, and cartooning. She enjoys creating and illustrating new characters, and the lands in which they dwell. She believes every painting has a story that must be conveyed. Her inspiration comes from the world around her, especially scenic mountain views, fantasy novels, costumes, the romantic, and the many artists she follows daily, whose talents encourage her to improve and create. When Jennifer isn't at her easel, she can be found with a cup of tea or coffee, knitting and crocheting new projects, hiking, or practicing photography. She also enjoys spending time with her husband, Chris, her main source of artistic encouragement, and their energetic dog, Bandit. RoseHeART Studios joined Society6 on February 6, 2015
More
Jennifer is a self-taught artist who has been drawing and doodling ever since she could hold a pencil - or crayon. Her interest in drawing began with her love for horses, slowly branching out to fantasy, landscape, and cartooning.
She enjoys creating and illustrating new characters, and the lands in which they dwell. She believes every painting has a story that must be conveyed.
Her inspiration comes from the world around her, especially scenic mountain views, fantasy novels, costumes, the romantic, and the many artists she follows daily, whose talents encourage her to improve and create.
When Jennifer isn't at her easel, she can be found with a cup of tea or coffee, knitting and crocheting new projects, hiking, or practicing photography.
She also enjoys spending time with her husband, Chris, her main source of artistic encouragement, and their energetic dog, Bandit.
RoseHeART Studios joined Society6 on February 6, 2015.
RoseHeART Studios's Store
29 results
Filter