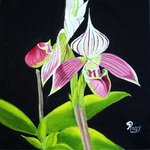 RossanaKelton
Born in Montevideo, Uruguay, Rossana has been working in oil, airbrushing and acrylic paintings for over 35 years. After taking a few classes in art, she went to work in the New York area. She has received various awards in Montevideo, Uruguay. She received an honorable mention in the Great Gulf Coast Shrimp Festival in April, 2011. She also received Special Recognition awards for the 2014 Botanicals Art Exhibition and the 2013 Botanicals Art Exhibition. She is an artist because it is something yearning to be shared with from her soul. Art brings the fragmentation of thoughts and feeling together. It is about when a complete stranger connect with something she has created. That feeling never gets old. She uses various innovative materials to create artistic paintings that are of unique commercial artistic quality. Her passion for learning and experimenting with a multitude of alternative materials and techniques, led to her Contemporary Fine Art creations. Rossana's primary focus has been on floral and marine traditional art with their simplicities and complexities. Her eye for color, light, value and balance enable her to create innovative images of ordinary objects. She uses the traditional techniques of the masters to accomplish her vision. Rossana is very passionate about educating this generation about the traditional oil painting techniques used by the master to achieve harmony in tones and balance between light and dark. Rossana uses traditional glazing techniques and multiple layers to achieve photorealism. Rossana's paintings have been in many internet galleries and shows. She is currently on Etsy in http://www.etsy.com/shop/RossanaKelton and in Imagekind at http:// 1kelton.imagekind.com /store/, Pinterest at http://www.pinterest.com/rossanartprints/ , Fine Art America Store at http://fineartamerica.com/art/all/Rossana+Kelton/all and http://rossana-kelton.artistwebsites.com/, Art.com Rossana Kelton at "Artist Rising" at: http:// www.artistrising.com/ galleries/ sailingoilpaintings, Myspace at http:// www.myspace.com /rossanakelton, Facebook at https: //www.facebook.com/rossana.kelton, Maritime Artist on Facebook: : http://www.facebook.com/?ref=home#!/pages/Maritime-Artists-Promote-your-own-events/110585212309955 and Twitter at https://twitter.com/keltoncofineart. She also participates on Living Art at http://www.living-art.org.uk/Members/KeltonFineArts/ and on Goggle at https://plus.google.com/115672662886242886557/posts. Rossana has exhibited at the Jackson Acura dealership Member show for the Roswell Fine Art League. She also exhibited at the Art and Jazz Night at the Rivermont Subdivision, Johns Creek, Georgia, 2012 and at ArtPrize, Grand Rapids, MI on September 22, 2010. She has also exhibited at the SmithTownship Arts Council, Arte Latino II from August 14 to September 24, 2010. She participated and exhibited at The Canvas Project: Volume 3, A Visual Encyclopedia  by Arthousescoop.com on December, 2010. She also participated in A Singular Creation, Water at the 3rd Ward in Brooklyn, NY on 2010. She participated in the poster contest of the Seabreeze Jazz Festival in Destin FL on 2006 and received an award at the poster contest for the Great Gulf Coast Arts Festival on 2005. Rossana has written a book "Art That Sells" available at Lulu.com, Amazon Kindle, Barnes and Noble NOOK, Apple iBookstore and Kobo and Everything Else Kobo. She has published articles on the Yahoo Contributor Network "Twitter your Art on Twitter", October 19, 2009. She also has an active Blog in Wordpress at Keltonfinearts.wordpress.com. She is a member of the Roswell Fine Art League and has been a Self-Representing Artist since 2007. She is also a member of the American Society of Oil Painters since 2011. She was a member of the American Association of Marine Artists, Arts Council of Northwest Florida, Bay Rivers Art Guild, Eastern Shore Art Center, Florida Keys Council for the Arts, International Student Associations at Seton Hall University, WetCanvas.com and the South Florida Artist Association. Rossana resides in Atlanta, Georgia with her husband Patrick and children Patricia, Katy, Joseph and Julia. RossanaKelton joined Society6 on August 9, 2014
More
Born in Montevideo, Uruguay, Rossana has been working in oil, airbrushing and acrylic paintings for over 35 years. After taking a few classes in art, she went to work in the New York area. She has received various awards in Montevideo, Uruguay. She received an honorable mention in the Great Gulf Coast Shrimp Festival in April, 2011. She also received Special Recognition awards for the 2014 Botanicals Art Exhibition and the 2013 Botanicals Art Exhibition. She is an artist because it is something yearning to be shared with from her soul. Art brings the fragmentation of thoughts and feeling together. It is about when a complete stranger connect with something she has created. That feeling never gets old. She uses various innovative materials to create artistic paintings that are of unique commercial artistic quality. Her passion for learning and experimenting with a multitude of alternative materials and techniques, led to her Contemporary Fine Art creations.
 Rossana's primary focus has been on floral and marine traditional art with their simplicities and complexities.  Her eye for color, light, value and balance enable her to create innovative images of ordinary objects. She uses the traditional techniques of the masters to accomplish her vision. Rossana is very passionate about educating this generation about the traditional oil painting techniques used by the master to achieve harmony in tones and balance between light and dark. Rossana uses traditional glazing techniques and multiple layers to achieve photorealism.

 Rossana's paintings have been in many internet galleries and shows. She is currently on Etsy in http://www.etsy.com/shop/RossanaKelton and in Imagekind at http:// 1kelton.imagekind.com /store/, Pinterest at http://www.pinterest.com/rossanartprints/ , Fine Art America Store at http://fineartamerica.com/art/all/Rossana+Kelton/all and http://rossana-kelton.artistwebsites.com/, Art.com Rossana Kelton at "Artist Rising" at: http:// www.artistrising.com/ galleries/ sailingoilpaintings, Myspace at http:// www.myspace.com /rossanakelton, Facebook at https: //www.facebook.com/rossana.kelton, Maritime Artist on Facebook: : http://www.facebook.com/?ref=home#!/pages/Maritime-Artists-Promote-your-own-events/110585212309955 and Twitter at https://twitter.com/keltoncofineart. She also participates on Living Art at http://www.living-art.org.uk/Members/KeltonFineArts/ and on Goggle at https://plus.google.com/115672662886242886557/posts.

 Rossana has exhibited at the Jackson Acura dealership Member show for the Roswell Fine Art League. She also exhibited at the Art and Jazz Night at the Rivermont Subdivision, Johns Creek, Georgia, 2012 and at ArtPrize, Grand Rapids, MI on September 22, 2010. She has also exhibited at the SmithTownship Arts Council, Arte Latino II from August 14 to  September 24, 2010. She participated and exhibited at The Canvas Project: Volume 3, A Visual Encyclopedia  by Arthousescoop.com on December, 2010. She also participated in A Singular Creation, Water  at the 3rd Ward in Brooklyn, NY on 2010.  She participated in the poster contest of the Seabreeze Jazz Festival in Destin FL on 2006 and received an award at the poster contest for the Great Gulf Coast Arts Festival on 2005.

  Rossana has written a book "Art That Sells"  available at Lulu.com, Amazon Kindle, Barnes and Noble NOOK, Apple iBookstore and Kobo and Everything Else Kobo.  She has published articles on the Yahoo Contributor Network "Twitter your Art on Twitter", October 19, 2009. She also has an active Blog in Wordpress at Keltonfinearts.wordpress.com.  She is a member of the Roswell Fine Art League and has been a Self-Representing Artist since 2007. She is also a member of the American Society of Oil Painters since 2011. She was a member of the American Association of Marine Artists, Arts Council of Northwest Florida, Bay Rivers Art Guild, Eastern Shore Art Center, Florida Keys Council for the Arts, International Student Associations at Seton Hall University, WetCanvas.com and the South Florida Artist Association.  Rossana resides in Atlanta, Georgia with her husband Patrick and children Patricia, Katy, Joseph and Julia. 

RossanaKelton joined Society6 on August 9, 2014.