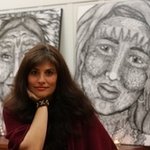 Rosyaronson
Rosy Aronson, PhD, is an inspirational artist, author and counselor. Her deepest intention is to provide empowering tools for people to awaken to their gifts and bloom into their authentic selves.
With this in mind, Rosy has created the '64 Faces of Awakening' (or 'Wisdom Keepers Series'), in order to celebrate the beauty, diversity and interconnectedness of humanity, and to reflect essential healing archetypes that lie at the foundation of our universe.
​Rosy's artwork has graced public shows and private collections in the U.S. and Europe. Along with her art and writing, she enjoys a full-time counseling practice. She lives with her Danish husband and daughter in Berkeley, California.
Learn more about Rosy's work here: www.wisdomkeepers.com
Read more
Rosyaronson's Store
527 results
Filter