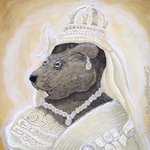 RotenbergGallery
Lisa Rotenberg is a Canadian artist and graphic designer, listed with the National Gallery of Canada. Her work is seen in corporate and private collections all over the world. Welcome to this celebration of Canada's 150th Birthday! Enjoy "First Canadian" and other glorious art for this possibly most important Canadian year of all time! RotenbergGallery joined Society6 on January 24, 2017
More
Lisa Rotenberg is a Canadian artist and graphic designer, listed with the National Gallery of Canada. Her work is seen in corporate and private collections all over the world.
Welcome to this celebration of Canada's 150th Birthday! Enjoy "First Canadian" and other glorious art for this possibly most important Canadian year of all time!
RotenbergGallery joined Society6 on January 24, 2017.