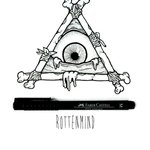 RottenMindIllustrations
18 year old up coming artist. Owner of Rotten Mind Illustrations All surport is greatly appreciated! Check me out on facebook to see more of my art work and also keep updated with exactly whats going down at the Rotten Mind HQ http://www.facebook.com/pages/Rotten-Mind-Illustrations/477798775579727?ref=hl RottenMindIllustrations joined Society6 on February 22, 2013
More
18 year old up coming artist.
Owner of Rotten Mind Illustrations
All surport is greatly appreciated!
Check me out on facebook to see more of my art work and also keep updated with exactly whats going down at the Rotten Mind HQ
http://www.facebook.com/pages/Rotten-Mind-Illustrations/477798775579727?ref=hl
RottenMindIllustrations joined Society6 on February 22, 2013.