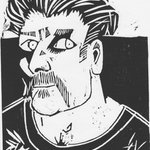 Rudolph Ouzounian - Bigshot Artist
I graduated from Laguna College of Art and Design with a BFA in Illustration and Fine Art. I now devote all of my time to creating fun and creative pieces that I hope bring as much joy to others as I find in producing them. Take a look around and I'm sure you'll find something you like. Also visit www.rudolphouzounian.com and www.etsy.com/shop/RudyPrints to see more of my artwork. :) Rudolph Ouzounian - Bigshot Artist joined Society6 on February 6, 2014
More
I graduated from Laguna College of Art and Design with a BFA in Illustration and Fine Art. I now devote all of my time to creating fun and creative pieces that I hope bring as much joy to others as I find in producing them.
Take a look around and I'm sure you'll find something you like.
Also visit www.rudolphouzounian.com and www.etsy.com/shop/RudyPrints to see more of my artwork.
:)
Rudolph Ouzounian - Bigshot Artist joined Society6 on February 6, 2014.