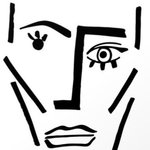 Rudy Bois
Discover creative projects by Canadian artistic director Rudy Bois.
Buy products from his ''Faire Visage'' drawings collection. Each drawing is unique and realized by his left hand! FAIRE VISAGE is an ode to the geometry of the face, to the mathematic and asymmetric aspects of beauty. The eyes are the only window through the soul and the marks left by time.
To learn more about his work and his biography, visit our website at www.rudybois.com.
Instagram @rudybois Facebook @rudybois
Read more