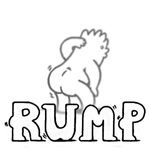 RUMP
- ATTENTION - Anyone who has had a drink knocked out of their cup, their feet stepped on, or got stuck in front to back traffic while on the dance floor: Your patronage is greatly appreciated and we understand the reality of your struggle... Get the hell off the dance floor. You would not experience these difficulties had you been dancing. No, not nodding your head and slow sipping. Not putting two fists up and your head down, rocking that Diddy bounce. I'm talking about stomping your feet, swinging your hips, jumping, spinning, and shaking your RUMP. This here is a pirate flag for the dancers who have been riding this wave for years and are prepared to take back the club. It's a reminder to the ones posted up that their center of movement could be in their RUMP instead of the cross in their arms. Each of us holds a sexy beast within. The beast wants to shake it. FREE THE BEAST AND SHAKE YOUR RUMP! RUMP joined Society6 on August 6, 2014
More
ATTENTION - Anyone who has had a drink knocked out of their cup, their feet stepped on, or got stuck in front to back traffic while on the dance floor: Your patronage is greatly appreciated and we understand the reality of your struggle... Get the hell off the dance floor.
You would not experience these difficulties had you been dancing. No, not nodding your head and slow sipping. Not putting two fists up and your head down, rocking that Diddy bounce. I'm talking about stomping your feet, swinging your hips, jumping, spinning, and shaking your RUMP.
This here is a pirate flag for the dancers who have been riding this wave for years and are prepared to take back the club. It's a reminder to the ones posted up that their center of movement could be in their RUMP instead of the cross in their arms.
Each of us holds a sexy beast within. The beast wants to shake it. FREE THE BEAST AND SHAKE YOUR RUMP!
RUMP joined Society6 on August 6, 2014.