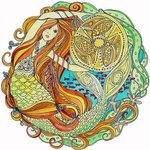 Ruthie Redden Artworks
I am ruthie, a pictorial storyteller, artist & illustrator, mother of three & maker of things. My paintings & creations are woven with Scottish myth & magic, folklore & history, sayings, songs & words. I find my inspiration through the ever changing seasons of the year here in beautiful Dumfries & Galloway. I hope to keep alive the stories & the magic of the past through my art. My home is nestled amongst the beautiful heather strewn hills & ancient woodlands of south West Scotland. I sell originals, prints, & cards & from time to time, my one of a kind tiny animal sculptures, hand stitched bits & pieces. Please contact me if you have any questions or if you see something you like. Requests and ideas are always welcome! Thank you for stopping by Ruthie x Other places to fin me: * Blog "www.5 precious things.blogspot.com" * Website www.ruthieredden.com. * Facebook: www.facebook.com/ruthie.redden.artworks * Twitter: @5preciousthings * Pinterest as Ruthie Redden All my images are subject to copyright and belong to me, the artist unless otherwise stated, please ask permission before using. Many thanks Ruthie Ruthie Redden Artworks joined Society6 on November 13, 2014
More
I am ruthie, a pictorial storyteller, artist & illustrator, mother of three & maker of things. My paintings & creations are woven with Scottish myth & magic, folklore & history, sayings, songs & words. I find my inspiration through the ever changing seasons of the year here in beautiful Dumfries & Galloway.
I hope to keep alive the stories & the magic of the past through my art.
My home is nestled amongst the beautiful heather strewn hills & ancient woodlands of south West Scotland.
I sell originals, prints, & cards & from time to time, my one of a kind tiny animal sculptures, hand stitched bits & pieces.
Please contact me if you have any questions or if you see something you like. Requests and ideas are always welcome!
Thank you for stopping by Ruthie x
Other places to fin me:
Blog "www.5 precious things.blogspot.com"

Website www.ruthieredden.com.

Facebook: www.facebook.com/ruthie.redden.artworks

Twitter: @5preciousthings

Pinterest as Ruthie Redden
All my images are subject to copyright and belong to me, the artist unless otherwise stated, please ask permission before using. Many thanks Ruthie
Ruthie Redden Artworks joined Society6 on November 13, 2014.