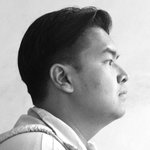 Rudy P Agnel
My name is Rudy P Agnel. Born and rise in Indonesia. Currently I claim myself as visual artist, I don't know exactly what it is, but I like it. I love to draw, some of them I did it digitaly with vector. I love VECTOR so much! I can make illustration, character design, paper toys, and typography. If you interested with my work. You can find me on twitter, instagram, or vine by the name @Ruw19 (for Vine just 'Ruw19′). Or you can contact me by e-Mail : bruwdy@gmail.com And tell me what you need, illustration, character design, and anything I can help. :) Thank you. Rudy P Agnel joined Society6 on March 15, 2015
More
My name is Rudy P Agnel. Born and rise in Indonesia. Currently I claim myself as visual artist, I don't know exactly what it is, but I like it. I love to draw, some of them I did it digitaly with vector. I love VECTOR so much! I can make illustration, character design, paper toys, and typography.
If you interested with my work. You can find me on twitter, instagram, or vine by the name @Ruw19 (for Vine just 'Ruw19′).
Or you can contact me by e-Mail : bruwdy@gmail.com
And tell me what you need, illustration, character design, and anything I can help. :)
Thank you.
Rudy P Agnel joined Society6 on March 15, 2015.