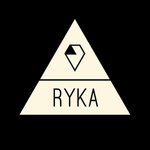 RYKA
RYKA is a brand from Rio de Janeiro, Brazil, created by graphic designer Renata Guimarães. RETROMETRIA is the new collection of RYKA. A collection that revisits the 80s, incorporating within our geometric references the non-conventional shapes, the vibrant colors and the kitch esthetics of the Italian movement Memphis Group. Memphis Group seeked a contradiction through a new discussion in the fields of design and architecture, oposing the funcionalism and the sober, pure colors of Bauhaus. The search for new horizons in shapes and coulours, bringing contraditon to geometry and keeping informality and good humour. That's RETROMETRIA. RYKA joined Society6 on June 24, 2015
More
RYKA is a brand from Rio de Janeiro, Brazil, created by graphic designer Renata Guimarães.
RETROMETRIA is the new collection of RYKA. A collection that revisits the 80s, incorporating within our geometric references the non-conventional shapes, the vibrant colors and the kitch esthetics of the Italian movement Memphis Group. Memphis Group seeked a contradiction through a new discussion in the fields of design and architecture, oposing the funcionalism and the sober, pure colors of Bauhaus. The search for new horizons in shapes and coulours, bringing contraditon to geometry and keeping informality and good humour. That's RETROMETRIA.
RYKA joined Society6 on June 24, 2015.