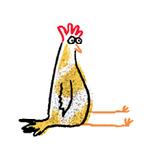 SabineVerkoren
Hello! My name is Sabine Verkoren. In 2014 I graduated from the Willem de Kooning Academy, School of the Arts Rotterdam (the Netherlands) with a Bachelor of Design in illustration. Now I'm working as a freelance illustrator. I specialise in children's illustration. https://sabineverkoren.carbonmade.com/ SabineVerkoren joined Society6 on January 4, 2016
More
Hello! My name is Sabine Verkoren. In 2014 I graduated from the Willem de Kooning Academy, School of the Arts Rotterdam (the Netherlands) with a Bachelor of Design in illustration. Now I'm working as a freelance illustrator. I specialise in children's illustration.
https://sabineverkoren.carbonmade.com/
SabineVerkoren joined Society6 on January 4, 2016.
Tabletop by SabineVerkoren
1 result
Filter