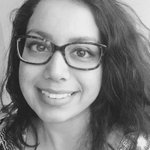 Sadhana Srinivasan
From an early age, Sadhana was never one to participate in childhood games unless it involved a paper and a pencil, usually in the form of a drawing competition (a task with a very predictable outcome). Her interest in creating illustrations continued as she discovered the wonders of Microsoft Paint. By sheer determination, the initial frustration of drawing with a mouse eventually faded into a new trick to show to friends and family.
She believes that the purpose of design is to reinterpret an existing object, feeling or opinion via the visual medium. Design is a tool which enables us to think differently about what's around us, and keeps alive the fascination we have for the changing world of today.
Sadhana's motivations as a designer are to shift perspectives about the dull and mundane, provoking a re-evaluation of the individual's perceptions. Her design goals are to inspire people of the small things in life which anyone can relate to. Her ability to see the other side of ordinary is something that differentiates her from others.
While it can be said that Sadhana has always had her head up in the clouds, her passion for design has always kept her on her feet.
Read more
Sadhana Srinivasan's Store
Filter
Sadhana Srinivasan's Store