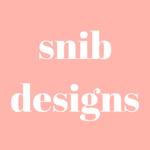 Snib Designs
Snib Designs is all about those patterns. We're inspired by vintage designs, from mid-century right up to the 1980s and 1990s. Bright colours are our vibe, but we can definitely get behind a muted contemporary look too... Get $10 off your first order using this link: https://share.society6.com/x/m6n33Y You can follow us on: - Facebook www.facebook.com/snibdesigns - Twitter www.twitter.com/snibdesigns - Instagram www.instagram.com/snibdesigns Snib Designs joined Society6 on January 26, 2015
More
Snib Designs is all about those patterns. We're inspired by vintage designs, from mid-century right up to the 1980s and 1990s. Bright colours are our vibe, but we can definitely get behind a muted contemporary look too...
Get $10 off your first order using this link: https://share.society6.com/x/m6n33Y
You can follow us on:
Facebook www.facebook.com/snibdesigns
Twitter www.twitter.com/snibdesigns
Instagram www.instagram.com/snibdesigns
Snib Designs joined Society6 on January 26, 2015.