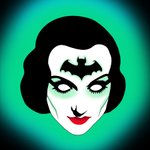 Saffron Reichenbacker
Saffron Reichenbacker is a UK based Artist inspired by a dream world of silver screen vamps and Weimar Berlin ghosts. She works primarily with ink sketches, which are then scanned and developed digitally. Using strong lines and bold colours, her pieces commonly take the form of imagined portraits. In these, she creates a mood that brings to life her dark dream vision of the 1920s. Saffron has exhibited in the UK, Italy & America. She loves cats, aerial circus and damn fine coffee. http://www.saffronreichenbacker.co.uk/ https://www.instagram.com/saffron_reichenbacker/ https://twitter.com/SaffronReich https://www.facebook.com/Saffron-Reichenbacker-284263195781/ Saffron Reichenbacker joined Society6 on April 24, 2017
More
Saffron Reichenbacker is a UK based Artist inspired by a dream world of silver screen vamps and Weimar Berlin ghosts. She works primarily with ink sketches, which are then scanned and developed digitally. Using strong lines and bold colours, her pieces commonly take the form of imagined portraits. In these, she creates a mood that brings to life her dark dream vision of the 1920s. Saffron has exhibited in the UK, Italy & America. She loves cats, aerial circus and damn fine coffee.
http://www.saffronreichenbacker.co.uk/
https://www.instagram.com/saffron_reichenbacker/
https://twitter.com/SaffronReich
https://www.facebook.com/Saffron-Reichenbacker-284263195781/
Saffron Reichenbacker joined Society6 on April 24, 2017.