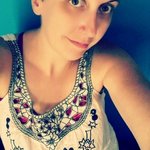 SageMoon
Sage Moon is a spiritual artist and author who devotes her artistic journey to the awakening of the divine feminine and sacred female temple. Her focus is the awakening of womankind, to empower and connect fellow women with their own shakti (female) power. She co-creates with her higher self, guides and mother earth to channel artwork that celebrates womanhood through the goddess and sacred symbology. "As I am healing myself from within, my art becomes healing for other women. As I connect with my Shakti power, my art becomes infused with the awakening of other women's power. As I become whole and complete, my art resonates with the wholeness of all womankind. This is my journey, and the butterfly affect will carry its healing intentions out into the world of women. The new goddess keepers of my paintings will also awaken that space within themselves, their own sacred garden of wisdom and healing. Together we are one" - Sage Moon Her brightly coloured art pieces reflect her own inner world like a blossoming lotus flower. Sage Moon's artwork and books are available in her Etsy shop - www.etsy.com/your/shops/SageMoonVisionaryArt SageMoon joined Society6 on March 14, 2015
More
Sage Moon is a spiritual artist and author who devotes her artistic journey to the awakening of the divine feminine and sacred female temple. Her focus is the awakening of womankind, to empower and connect fellow women with their own shakti (female) power.
She co-creates with her higher self, guides and mother earth to channel artwork that celebrates womanhood through the goddess and sacred symbology.
"As I am healing myself from within, my art becomes healing for other women. As I connect with my Shakti power, my art becomes infused with the awakening of other women's power. As I become whole and complete, my art resonates with the wholeness of all womankind. This is my journey, and the butterfly affect will carry its healing intentions out into the world of women. The new goddess keepers of my paintings will also awaken that space within themselves, their own sacred garden of wisdom and healing. Together we are one" - Sage Moon

Her brightly coloured art pieces reflect her own inner world like a blossoming lotus flower. Sage Moon's artwork and books are available in her Etsy shop -
www.etsy.com/your/shops/SageMoonVisionaryArt
SageMoon joined Society6 on March 14, 2015.
SageMoon's Store
15 results
Filter