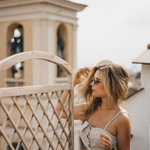 SAIGE ASH STUDIO - Fine Art Travel Print Photography
Fine Art Travel Photographer creating and capturing energy in people and places around the globe. 45 countries and counting...
I am a lifestyle, travel and intimate wedding photographer from Edmonton, Canada and currently living in London, England. I love travelling and I connect with people, places and spaces everywhere I visit. The fact that I can document my travels and share inspiring images with others is 'gold' to me. My hope is that you are able to feel the energy in each picture I capture and that my photographs are a welcome distraction or an instigator for your own wandering travels...
Let's connect, follow my journey on instagram @saigeashstudio www.saigeashstudio.com
saigeashstudio - fine art travel photography to energize your travelling dreams.
Read more
Prints by SAIGE ASH STUDIO - Fine Art Travel Print Photography
19 results
Filter