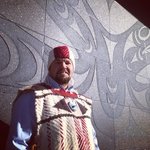 Jody Broomfield - Salish Artist
About Artist Heritage: Sḵwx̱wú7mesh - Squamish, Coast Salish. Jody Broomfield was born in North Vancouver, BC and now resides on the traditional village of Xwemelch'stn (Homulchestan) West Vancouver, BC. His family come from the villages of Eslha7an (Uslahawn) & St'a7mes (Stawamus) and they carry the Double Headed Sea Serpant Crest. ​Full time artist since 1999, Jody has observed and studied the Salish Art Form, which he very devoted too and take exquisite amount of time on each artistic creation. Jody has collaborated on several different projects with the Royal Canadian Mint, Tom Lee Music, BC Lions Society for Children with Disabilities, Four Host First Nations/VANOC, Lululemon, La Maison Simons. Many of his artistic creations are featured in many public and private collections, locally and internationally. Jody works in a variety of mediums, such as: carved wood, etched glass, metal sculpting, clothing, jewelry, painting & prints. Jody Broomfield - Salish Artist joined Society6 on December 10, 2015
More
About Artist Heritage: Sḵwx̱wú7mesh - Squamish, Coast Salish.
Jody Broomfield was born in North Vancouver, BC and now resides on the traditional village of Xwemelch'stn (Homulchestan) West Vancouver, BC. His family come from the villages of Eslha7an (Uslahawn) & St'a7mes (Stawamus) and they carry the Double Headed Sea Serpant Crest.
​Full time artist since 1999, Jody has observed and studied the Salish Art Form, which he very devoted too and take exquisite amount of time on each artistic creation. Jody has collaborated on several different projects with the Royal Canadian Mint, Tom Lee Music, BC Lions Society for Children with Disabilities, Four Host First Nations/VANOC, Lululemon, La Maison Simons. Many of his artistic creations are featured in many public and private collections, locally and internationally.
Jody works in a variety of mediums, such as: carved wood, etched glass, metal sculpting, clothing, jewelry, painting & prints.
Jody Broomfield - Salish Artist joined Society6 on December 10, 2015.
Jody Broomfield - Salish Artist's Store
163 results
Filter