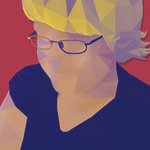 Sally Taylor
Sally Taylor is an artist based in the West Midlands, U.K. She enjoys a bit of everything creative- sewing/crafts, music, writing, photography, and Illustration, both digital and traditional. She graduated in Nov. 2013 from the University of Gloucestershire with a BA (Hons) in Illustration. Sally has a love for nature - birds and the outside world, and enjoys travelling to new places. She enjoys listening to the stories of others, and isn't afraid to smile at strangers. If you buy any of my work, I would love to see a picture of you with the print/cushion, whatever! Please email: sallyetaylor@outlook.com Website: www.sallytaylorart.co.uk Blog: sallytaylorart.tumblr.com WEBSITE SURVEY: https://www.surveymonkey.com/s/X96CHFX It's the end of 2013! I'm always looking to how I can improve things, so have created a very quick survey! I appreciate the feedback - as it will help me into 2014 and beyond... Sally Taylor joined Society6 on December 10, 2012
More
Sally Taylor is an artist based in the West Midlands, U.K. She enjoys a bit of everything creative- sewing/crafts, music, writing, photography, and Illustration, both digital and traditional.
She graduated in Nov. 2013 from the University of Gloucestershire with a BA (Hons) in Illustration.
Sally has a love for nature - birds and the outside world, and enjoys travelling to new places. She enjoys listening to the stories of others, and isn't afraid to smile at strangers.
If you buy any of my work, I would love to see a picture of you with the print/cushion, whatever! Please email: sallyetaylor@outlook.com
Website: www.sallytaylorart.co.uk Blog: sallytaylorart.tumblr.com
WEBSITE SURVEY: https://www.surveymonkey.com/s/X96CHFX It's the end of 2013! I'm always looking to how I can improve things, so have created a very quick survey! I appreciate the feedback - as it will help me into 2014 and beyond...
Sally Taylor joined Society6 on December 10, 2012.