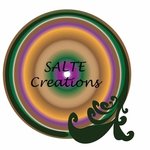 Salte Creations
Salte is my signature for all my art for my style of creating, I have studied Fine Art to create different pieces with no direct one style so that each piece can speak for themselves to those who find ones they like. As a traditional artist, Salte likes to experiment in different media, styles, and works of art. Though her favorite thing to create is portrait work, her abstract creations allow for more stories to be told. She hopes that the variety she offers attracts a wide and interested audience. With some fan art of popular television characters, landscapes, abstract pieces, wildlife and other kinds of portrait work, each work has a process of its own and I am only the translator. "Story in Art" as I like to say, going from the phrase "A picture is worth a thousand words" Salte Creations joined Society6 on July 7, 2016
More
Salte is my signature for all my art for my style of creating, I have studied Fine Art to create different pieces with no direct one style so that each piece can speak for themselves to those who find ones they like.
As a traditional artist, Salte likes to experiment in different media, styles, and works of art. Though her favorite thing to create is portrait work, her abstract creations allow for more stories to be told. She hopes that the variety she offers attracts a wide and interested audience. With some fan art of popular television characters, landscapes, abstract pieces, wildlife and other kinds of portrait work, each work has a process of its own and I am only the translator.
"Story in Art" as I like to say, going from the phrase "A picture is worth a thousand words"
Salte Creations joined Society6 on July 7, 2016.