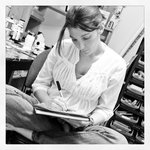 Saltons Cove Studio
Becoming Saltons Cove Studio was a long and challenging journey, but it has made me who I am today and for that I thankful. I have been artistic since I was a little girl, drawing "save the whales" illustrations on our family bus shelter in chalk. My parents have always encouraged my creative endeavors, buying me art supplies to work with and cameras to take photos of the things I wanted to sketch. When I was fourteen, my little brother passed away and I lost my passion for everything. Grief took over and my parents and I spent quite some time simply going through the motions of life. I didn't pick up my artwork anymore until I was twenty-four. That year, my husband's work moved us across the country and his hours meant I spent a lot of time on my own with our oldest son. I decided to start scrapbooking to distract myself from being away from Newfoundland and my parents. And slowly but surely, I dabbled a little into doodling, sketching and watercoloring again, but I didn't dive back in deep again until we moved back to Newfoundland a little over two years ago. It took a lot of courage for me to start creating pieces of artwork again and even then, I hoarded them and hid them for quite awhile before finally showing my art to my husband and my parents. Once I took that step, I started sharing my work with other people and finally, in 2011 I decided to open my Etsy shop and now, I've decided to expand and offer my artwork at Society6. The name of my shop, Saltons Cove Studio, comes from the cove near my childhood home. The actual spelling of the name is "Saultons" but one of the tangible things I have left of my brother is a letter he wrote to me asking me to take him to Saltons Cove to play. So I decided to use his version of the spelling. These days, I feel so blessed that I get to create almost every single day and that there are people who are inspired by my work. Saltons Cove Studio joined Society6 on August 6, 2014
More
Becoming Saltons Cove Studio was a long and challenging journey, but it has made me who I am today and for that I thankful.
I have been artistic since I was a little girl, drawing "save the whales" illustrations on our family bus shelter in chalk. My parents have always encouraged my creative endeavors, buying me art supplies to work with and cameras to take photos of the things I wanted to sketch.
When I was fourteen, my little brother passed away and I lost my passion for everything. Grief took over and my parents and I spent quite some time simply going through the motions of life.
I didn't pick up my artwork anymore until I was twenty-four. That year, my husband's work moved us across the country and his hours meant I spent a lot of time on my own with our oldest son. I decided to start scrapbooking to distract myself from being away from Newfoundland and my parents. And slowly but surely, I dabbled a little into doodling, sketching and watercoloring again, but I didn't dive back in deep again until we moved back to Newfoundland a little over two years ago.
It took a lot of courage for me to start creating pieces of artwork again and even then, I hoarded them and hid them for quite awhile before finally showing my art to my husband and my parents. Once I took that step, I started sharing my work with other people and finally, in 2011 I decided to open my Etsy shop and now, I've decided to expand and offer my artwork at Society6.
The name of my shop, Saltons Cove Studio, comes from the cove near my childhood home. The actual spelling of the name is "Saultons" but one of the tangible things I have left of my brother is a letter he wrote to me asking me to take him to Saltons Cove to play. So I decided to use his version of the spelling.
These days, I feel so blessed that I get to create almost every single day and that there are people who are inspired by my work.
Saltons Cove Studio joined Society6 on August 6, 2014.