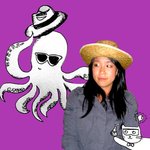 Samantha Liang
Thanks for looking at my drawings!
A little about myself - I am a graduate student in biochemistry and molecular biology. I live in the best part of San Francisco. I have a big smile and poor hand-eye coordination. And I like to draw animals wearing sunglasses.
Read more
Samantha Liang's Store
Filter
You are currently on society6.com.