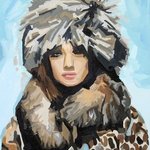 Samantha Ring
Samantha Ring was born in 1989 and lives in Regina, Saskatchewan. In 2013 she graduated with a Bachelor of Fine Arts Degree (Painting) at the University of Regina. In 2007 Samantha received the Margaret Messer Scholarship for art education. Today many of her paintings are influenced by the fashion industry and the trends off the runway. In 2013, her paintings were displayed at the Mackenzie Art Gallery of Regina in the University of Regina's graduation BFA show, Fruition. Then in 2012, her work was featured in the University of Regina's The Fifth Parallel Gallery and the University of Winnipeg's 1000-Miles Apart Ceramics Conference. Samantha plans to pursue interior design and painting using her artistic talents. Her paintings are currently on display at Castle Furniture in Regina Sk. Samantha Ring joined Society6 on December 22, 2013
More
Samantha Ring was born in 1989 and lives in Regina, Saskatchewan. In 2013 she graduated with a Bachelor of Fine Arts Degree (Painting) at the University of Regina. In 2007 Samantha received the Margaret Messer Scholarship for art education.
Today many of her paintings are influenced by the fashion industry and the trends off the runway. In 2013, her paintings were displayed at the Mackenzie Art Gallery of Regina in the University of Regina's graduation BFA show, Fruition. Then in 2012, her work was featured in the University of Regina's The Fifth Parallel Gallery and the University of Winnipeg's 1000-Miles Apart Ceramics Conference. Samantha plans to pursue interior design and painting using her artistic talents. Her paintings are currently on display at Castle Furniture in Regina Sk.
Samantha Ring joined Society6 on December 22, 2013.