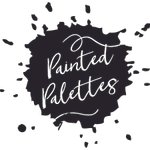 Painted Palettes
Samantha Testa is an artist living in Washington, DC. In her hometown of Youngstown, Ohio, her grandfather instilled a love of creating art that has lasted her entire life.
​
In January of 2016 she made this love official and created her business, Painted Palettes. Since then, Samantha can be found teaching hand lettering workshops and painting commissioned artwork. In addition, Samantha loves to use her unique modern calligraphy for events and stationery.
​
Sam loves puns, coffee, red wine, pickles, fresh flowers, 70-degree days, brand new markers, and the "little things."
When Samantha studied abroad in Italy many years ago, she visited an artist's studio in Ravenna. Posted on the door of this studio was a simple sign. It said, "Life without art is stupid." She agrees wholeheartedly.
Read more
Painted Palettes's Store
Filter