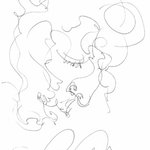 Sam Galloway
Sam Galloway is an illustrator and 3D Artist from the UK. Doodle Punch the Boxer is his alias and mascot, he represents the perseverance of a struggling artist. You can follow his doodles on the Doodle Punch blog: www.doodle-punch.tumblr.com He also collaborates with writer Stefan Mohamed on the Wizmo blog: www.wizmoblog.tumblr.com Watch his struggle and doodles documented on his YouTube channel: http://www.youtube.com/user/Gallamanji People watching, doodle punching and constant struggling from artist Sam Galloway. www.samgalloway.co.uk Sam Galloway joined Society6 on June 15, 2014
More
Sam Galloway is an illustrator and 3D Artist from the UK. Doodle Punch the Boxer is his alias and mascot, he represents the perseverance of a struggling artist.
You can follow his doodles on the Doodle Punch blog: www.doodle-punch.tumblr.com
He also collaborates with writer Stefan Mohamed on the Wizmo blog: www.wizmoblog.tumblr.com
Watch his struggle and doodles documented on his YouTube channel: http://www.youtube.com/user/Gallamanji
People watching, doodle punching and constant struggling from artist Sam Galloway.
www.samgalloway.co.uk
Sam Galloway joined Society6 on June 15, 2014.
Sam Galloway's Store
129 results
Filter