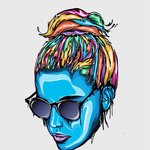 Sam Janssen
My name is Sam Janssen, a 19 years old freelance illustrator and artist. currently living in Wijchen, a small town next to Nijmegen, the Netherlands. My work consists of colorful and organic illustrations inspired by everyday life. In my work I try to find a balance between realism and surrealism. My passion for drawing is the roots of my artwork, I was always drawing at young age what eventually led to the work I make today. Clients include Jobe Watersports, Liquid Skateboards and Fourbcollective Skateboards. Sam Janssen joined Society6 on December 25, 2012
More
My name is Sam Janssen, a 19 years old freelance illustrator and artist. currently living in Wijchen, a small town next to Nijmegen, the Netherlands.
My work consists of colorful and organic illustrations inspired by everyday life. In my work I try to find a balance between realism and surrealism.
My passion for drawing is the roots of my artwork, I was always drawing at young age what eventually led to the work I make today.
Clients include Jobe Watersports, Liquid Skateboards and Fourbcollective Skateboards.
Sam Janssen joined Society6 on December 25, 2012.
Framed Prints by Sam Janssen
7 result
Filter