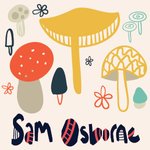 Sam Osborne
Brightly-Coloured designer nerd. UK based graphic designer, surface pattern designer and illustrator creating colourful, modern, geometric based prints and illustrations. My bold graphic prints and illustrations are a world of fun and colour that spark imagination and wonder in both kids & grown ups. I love playing with perspective, strong graphic shapes, colours and textures and am especially influenced by retro and scandinavian design, The Bauhaus, Constructivism, Matisse, science fiction b-movies and holidays in Denmark as a child. Find me here: Facebook - www.facebook.com/SamOsborneIllustrations Twitter - www.twitter.com/SamOssie Instagram - www.instagram.com/samossie Pinterest - www.pinterest.com/samossie Sam Osborne joined Society6 on April 16, 2011
More
Brightly-Coloured designer nerd. UK based graphic designer, surface pattern designer and illustrator creating colourful, modern, geometric based prints and illustrations.
My bold graphic prints and illustrations are a world of fun and colour that spark imagination and wonder in both kids & grown ups. I love playing with perspective, strong graphic shapes, colours and textures and am especially influenced by retro and scandinavian design, The Bauhaus, Constructivism, Matisse, science fiction b-movies and holidays in Denmark as a child.
Find me here:
Facebook - www.facebook.com/SamOsborneIllustrations
Twitter - www.twitter.com/SamOssie
Instagram - www.instagram.com/samossie
Pinterest - www.pinterest.com/samossie
Sam Osborne joined Society6 on April 16, 2011.