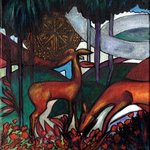 Sam Parr
Sam Parr Artist and Illustrator I am largely self taught, and have changed careers to become an artist and illustrator at a more "mature" age than some. I work in pretty traditional methods, pencils, pens, paper, but also digitally and with photography. I aim to make my art uplifting, and inspiring and make people smile whilst at the same time conveying the range of emotions we can feel as human people, in moods and portraits. Nothing too heavy but not so light as to be too sweet. Just right. I hope you enjoy my work. http://samparr.co.uk http://samparrart.blogspot.co.uk/ https://www.facebook.com/SamParrArtandIllustration Sam Parr joined Society6 on April 7, 2011
More
Sam Parr Artist and Illustrator
I am largely self taught, and have changed careers to become an artist and illustrator at a more "mature" age than some. I work in pretty traditional methods, pencils, pens, paper, but also digitally and with photography. I aim to make my art uplifting, and inspiring and make people smile whilst at the same time conveying the range of emotions we can feel as human people, in moods and portraits. Nothing too heavy but not so light as to be too sweet. Just right. I hope you enjoy my work.
http://samparr.co.uk http://samparrart.blogspot.co.uk/ https://www.facebook.com/SamParrArtandIllustration
Sam Parr joined Society6 on April 7, 2011.
Birds Nest Hat Oriental Dress Girl_Print by Sam Parr
81 results
Filter